Cammino Balteo

Stages

organize your trip
Each stage of the Cammino Balteo hiking trail is an invitation to discover, walking along paths but also on dirt roads and asphalted sections, through villages and sites of cultural and naturalistic interest.
The trek is divided into 23 stages of about 4-6 hours each.
The length of the stages varies between 8 and 20 Km while the uphill difference in height ranges from 200 to 1,300 meters.
The route develops mainly in the valley floor and on the slopes of medium altitude, with an altitude between 350 and 1900 metres above sea level, therefore practicable for a good part of the year.
Depending on everyone's training or interests, the longer stages can only be covered in part, staying overnight along the route or, in some cases, interrupted using public transport.
The yellow markers have the number 3 in a triangle with the vertex facing down.
The funnel-shaped symbol on the interactive map allows you to view the points of interest in the area: where to sleep, where to eat, places of historical and cultural interest, etc.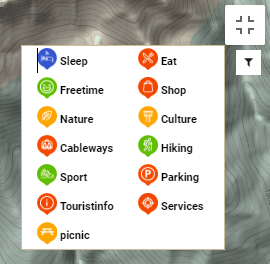 all the stages
23 possibilities of discovery